THE MOST HILARIOUS TV SHOWS TO BINGE WATCH ASAP
One of my favorite moments of the day is curling up in bed before going to sleep and watching a TV show. And not just any TV show, but a sitcom. A sitcom is a funny television series that follows a set of characters in every episode. Laughter is considered the best medicine, and sitcoms definitely have that therapeutic quality. They are a great way to end your day on a positive note, feeling happy and relaxed. Whether you are hesitant to start the super famous show Friends or have just finished the last season of How I Met Your Mother and are looking for the next thing to binge-watch, here is a list of the best feel-good shows out there.
Friends
Obviously, this list could not start off with anything other than the cult show Friends. A lot of people are reluctant to watch this series because of the recorded laughs audible in every episode, or the poor visual quality of the first seasons. However, although Friends came out in 1994 it has not aged one bit: you will find yourself laughing out loud, forgetting about the recorded laughs, and getting attached to all of the characters. This is probably the show people re-watch the most, and there is a reason for that: its authenticity, originality and cleverness which will keep you coming back for more. In case you do not know, the show is set in New York and follows the adventures of a group of friends who are in their twenties as they struggle with adulting, relationships and life in general.
How I Met Your Mother
How I Met for short, is another very popular show, largely inspired by Friends. Again, the show takes place in The Big Apple, and revolves around a set of friends aged twenty something. Every character has his special quirks and endearing traits. To give you a sneak peek: Robin is a strong-minded Canadian journalist, who does not want children but is set on having a great career; Ted is a helpless romantic who keeps looking for the one; while the great Barney, is well-known for his epic catch phrases: "Have you met Ted?" or "It's going to be legendary!" If you are scared to watch Friends, starting out with HIMYM can be a good choice.
New Girl
New Girl centers around the character of Jessica Day (played by Zooey Deschanel), or Jess, who at the start of the first season is going through a rough breakup and needs to find a new place to live. This leads to her moving in with three other guy roommates, Nick, Schmidt and Coach (quickly replaced by Winston). This unlikely apartment share changes the lives of each character as they grow and learn from each other. The first episodes depict Jess as a crazy and kooky woman, but do not be discouraged by this over the top persona, the character soon becomes quite loveable. As do all the others!
Parks and Recreation
This mockumentary style show takes us into the daily life of the Parks and Recreation department of the State of Indiana. Do not fear, behind this administrative façade hide plenty of hilarious employees. Leslie Knope is the fierce, kind, loving Deputy Director determined to do her job the best way possible and motivate those around her to do the same. Her intensity and quirky humor are her trademark; Ron Swanson is known for his moustache, strong desire for privacy and undeniable soft side; while Donna Meagle is an absolute queen. And this is just a taste of the cast. One of the funniest and most addictive shows on this list.
The Office (USA)
The Office is another hilarious option, which like Parks and Rec follows really quirky and unique set of characters, unlike anyone you have probably ever met. It unfolds in Scranton, Pennsylvania, in the office of the (fictive) Dunder Mifflin Paper Company and describes the daily life of the employees working there. All of them have a distinct personality and are forced to work in the same office, giving way to very funny situations. The mockumentary style adds to the comedic effect of the show, with characters talking to the camera alone for instance.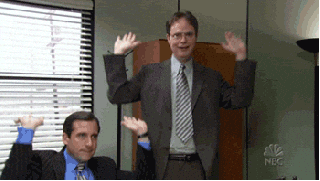 Brooklyn Nine-Nine
This series also takes partly place in an office, although a very special one at that. Brooklyn Nine-Nine refers to a police precinct in New York where the show unfolds. All of the employees, from the police officers, sergeants, secretaries bring something unique to the table, they are well-written and hilarious, while all being very different. Not only does the show have a humorous aim, but also a political and societal one underlying it.
Time to Netflix and chill!
Article by Inès Huet